School Of Business
​Welcome to the School of Business at Francis Marion University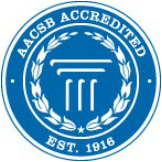 The School of Business at Francis Marion University offers majors in eight business areas, as well as three minor degrees. More than 600 students currently major in accounting, finance, marketing, economics, management, information systems, and other business areas. The School of Business is fully accredited with AACSB -The International Association to Advance Collegiate Schools of Business.

AACSB accreditation assures quality and promotes excellence and continuous improvement in undergraduate and graduate education for business administration and accounting. Accreditation is a process of voluntary, nongovernmental review of educational institutions and programs.

Specialized agencies award accreditation for professional programs and academic units in particular fields of study. As a specialized agency AACSB -The International Association For Management Education grants accreditation for undergraduate and graduate business administration and accounting programs. Institutional accreditation reviews entire colleges and universities.
​
The Faculty at the School of Business at Francis Marion University are degreed professionals with real-world experience; most hold doctoral degrees in their fields of expertise. The School of Business offers quality academic programs, extracurricular business-related clubs and organizations, study abroad programs and internship opportunities.


---
Click
here
to go to the FMU homepage.
Attention School Of Business Alumni! Click the Francis Marion Alumni image below to fill out a contact form.