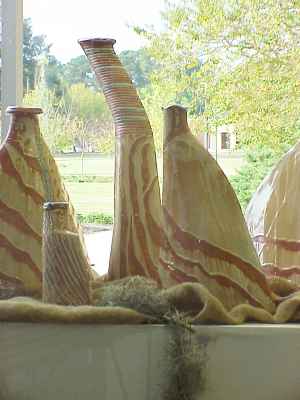 Pottery by Sasha & Tari Federer
Art Gallery Series
November 3-19, 2004
Hyman Fine Arts Center Gallery


Shapes from Within - Pottery by Sasha & Tari Federer

"Working in clay represents, for me, a timeless desire to combine objects of use with beauty, by creating the unique from the ordinary, and to experience beauty in everyday moments." - Sasha


Born in Prague, Czechoslovakia Republic, Sasha has lived in USA for half his life, in Florence for nine years -- as a clinical psychiatrist by profession, and as a potter by passion. He studied pottery in Washington and Wisconsin, worked three years as a professional potter in New Hampshire and served as artist-in-residence with the National Endowment for the Arts.


"Working with clay represents the interconnectedness with the forces of nature that surround, and inspire us, along with the shapes that evolve from deep within. My mission is to combine these shapes and forces into art form and functionality." - Tari


Spending much of her life in the Southwest, Tari studied as an art major at Ventura College and the University of California Santa Barbara. A few years ago she closed her studio in North Carolina and moved to Florence, SC, to marry and join forces with Sasha. Their joining has resulted in a creative collaboration in their quest to create in clay at their studio, Feather Pottery.