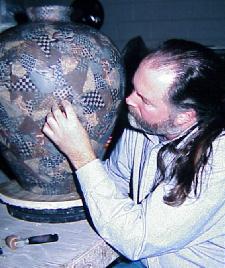 Art Gallery Series
March 19 - April 19, 2002
Hyman Fine Arts Center Gallery

Patchwork Containment, Ceramics by Vince Pitelka

"My work addresses the visual and narrative power of pattern, and the dialogue between surface, form, and containment. I am interested in the way pattern and surface inform our perceptions of exterior form and interior space.... My work fits into a 14,000-year tradition of narrative vessels...all surface pattern and imagery is created with inlaid colored clays, usually with a clear glaze overall...no colored glazes are used."

Vince Pitelka received his BA in Art from Humboldt State University and his MFA in Ceramics from the University of Massachusetts. Having taught at the University of Massachusetts, Northeastern University, and North Dakota State University, Vince is now Associate Professor of Clay and Head of the Clay Program at Tennessee Technological University's Appalachian Center for Crafts. He has exhibited nationwide, and is the recipient of a National Endowment for the Arts Fellowship.

A reception and gallery talk is scheduled for Tuesday evening, March 19, in the gallery. The following day (Wednesday, March 20) Mr. Pitelka will be interacting with FMU students in the ceramics lab (HFAC 121). The first of two demonstration will begin at 9:30 AM and continue until 12:30. At 2:30, Mr. Pitelka will continue his demonstration and a provide a brief slide lecture. All events are free and open to the public. Please joins us!