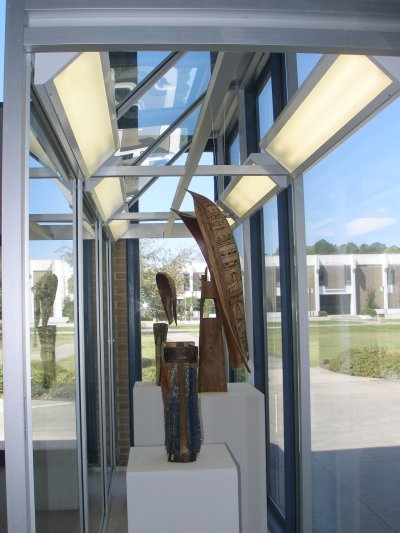 Grid near top of 3-D cases can help steady tall pieces or suspend some light works.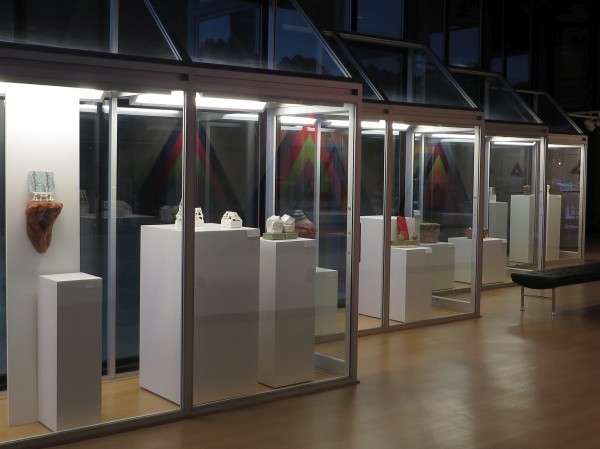 3-D CASES:
The secure three dimensional display area consists of four glass-walled cases running the length of the stepped glass north exterior wall of the main theatre/recital hall lobby. A variety of white pedestals are on hand for small and medium sized works. Access to the display cases is through locking glass end doors 37" wide and 81.5" high. The usable depth and height of all display cases are 37" and 81.5" respectively. The length of the west-most case is 162"; the other three are 111" each in length.
3-D Display Considerations: Exhibits with a definite "front" typically face south. The cases are framed in brushed aluminum. In addition to corner posts, there is a single 3"x3" vertical post centered along the length of each of the smaller cases, dividing the each area into two 51" wide 'windows.' The larger case has two such posts, giving two 51" windows and a slightly smaller 48" window on the west end. The interior is not obstructed, but the frameworks give the impression the cases are divided into nine distinct display areas instead of four. There is an aluminum grid 81.5" above the floor in each cases, a central bar running the length of each case and a crossing member at each vertical post. The grid can support light hanging works (to 40 lbs.) or add stability to tall, narrow-based works, but not much more than that. One final point: due to the traffic pattern in the lobby, the east-most case dominates.