Art Gallery Series
November 25 - December 13, 2003
Hyman Fine Arts Center Gallery

Senior Shows by Graduating Visual Arts Majors Sandy Lamb and Jonathan Boatwright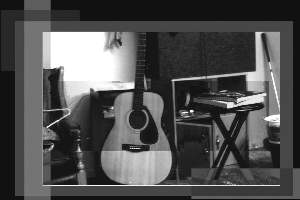 Sandy Lamb

"The quote for this piece was taken from one of my favorite movies, Braveheart. It said, "Your heart is free...have the courage to follow it." This piece is dedicated to all of the starving artists out there. Hope will come at a time when you least expect it.
"In my series of chairs, I chose the images of chairs because I felt that the simple lines of a chair could be elegant and expressive at the same time. A single chair in a picture projects feelings of loneliness, inviting the viewer to enter the picture. As the spectator spends their time observing the chair, they begin to examine the history behind the chair.
"Chairs have a personality of their own. Some chairs seem to be rigid and uptight. Other chairs come across as being soft and friendly. There are even chairs that are too elegant and snobby to be sat on. Everyday objects can have interesting characteristics that resemble you and me; it just takes time to discover them."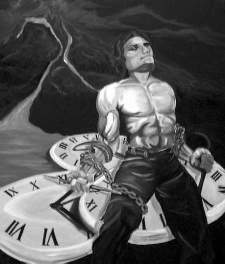 Jonathan Boatwright
"I have found several painters through my college years that I really look up to such as: Sargent, Waterhouse, Monet, Cole, and Homer. These artists really have an ability to capture a moment in time with a full rendering of light and perspective. This is something that I try to incorporate in my technique. I use a very expressive brush stroke, and I like to try to capture the human form in such an expressive way to fully convey emotion. I would love to, someday, be able to develop my technique to the level of Sargent so that I would be able to fully capture a complete moment. This is in part created through the use of light and dark to create the illusion of depth, but just using black and white will not work. It is necessary to be able to paint with the full color range and avoid a muddy effect. I love to pit the light versus the dark just for the sake of contrast, but I have a long way to go to reach the accuracy in color mixing of the masters that I mentioned. I make this effort clear in the paintings "Powerless," and "Slipping." The figures are placed against a high contrast background to make them, in a sense, step forward from the rest of the composition.
"These paintings are my way of releasing all the stress from college, work and the deadlines that come from being an art major. I feel that being an art major is extremely difficult because the professors in the general education field have no idea of the responsibilities of an art major. You are encouraged, as an art major, to think outside the box, but when you finally get to that point, budget cuts can stifle your creativity limiting your access to the tools you need to adequately express yourself. I express my frustrations with aging technology in my first painting "Rage." Then I chose to show that time is unstoppable and another restriction through the lava in the painting "Powerless." Then comes the most important confinement, the balancing of general education with the studio classes. The painting "Slipping" depicts me holding a candle that is burning on both ends. This obviously is symbolic of the burned out feeling that I have felt trying to manage a tough schedule. The gun symbolizes the destructive force from the pressure of trying to get thirty hours out of single days. I hope this series will allow me to move on with a renewed focus."

There will be a reception honoring the artists at 7:00 pm on Tuesday, November 25, in the Fine Arts Center Gallery.