Department of Fine Arts

The University Theatre Presents:
Book of Days
by Lanford Wilson

February 19-22, 2003
Fine Arts Theatre
Hyman Fine Arts Center
Francis Marion University
| | |
| --- | --- |
| The Francis Marion University Theatre's second mainstage production of the 2002-2003 season, to run February 19-22, will be Lanford Wilson's Book of Days, which won the Best Play Award from the American Theater Critics Association. Book of Days is set in a small town dominated by a cheese plant, a fundamentalist church, and a community theater. When the owner of the cheese plant dies mysteriously in a hunting accident, Ruth, his bookkeeper, suspects murder. Cast as Joan of Arc in a local production of George Bernard Shaw's St. Joan, Ruth takes on the attributes of her fictional character and launches into a one-woman campaign to see justice done. | |



Lanford Wilson uses note-perfect language to create characters who are remarkable both for their comic turns and for their enormous depth. "Mr. Wilson's cosmic consciousness, intense moral concern, sense of human redemption and romantic effusion have climbed to a new peak." -- Alvin Klein New York Times


CAST LIST:
RUTH HOCH........................Rachel Harrison
LEN HOCH............................Vince Triana
BOYD MIDDLETON.......................Glen Dawson
GINGER REED.....................Sarah Thorowgood
MARTHA HOCH.......................Carol Graziani
WALT BATES...........................Brad Sponic
SHARON BATES.....................Gretchen Freund
JAMES BATES........................David Sistare
LOUANN BATES......................Tiffany Sarvis
EARL HILL........................Andrew Cogswell
REVEREND BOBBY GROVES..............Nick Sharrett
SHERIFF CONROY ATKINS......Christopher Blackwell
DIRECTOR.......Associate Professor D. Keith Best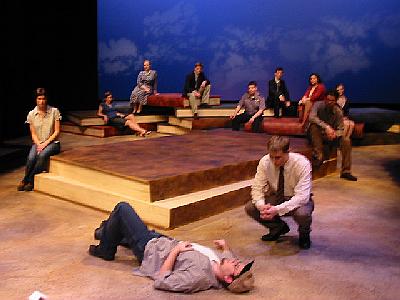 The Francis Marion University Theatre began the season with Richard Brinsley Sheridan's The School for Scandal and continued the season with the Experimental Theatre's series of Student Directed One-Act Plays. The season will close with Beth Henley's Crimes of the Heart to run April 16-19.
Reservations for Book of Days may be made beginning February 10 by calling the box office at 661-1365. The box office will be open to reserve seats Monday through Friday from 1 pm to 5 pm. All tickets are free to the public. Curtain is at 8:00.
For additional information contact Mr. Gourley in FAC 222, 661-1536, agourley@fmarion.edu.
Interested in working "behind the scenes"? Contact Mr. Granath in FAC 222, 661-1536, dgranath@fmarion.edu.

---
Performance Ensembles
Alpha Psi Omega - The National Honorary Fraternity in Dramatics
Back to Fine Arts Home Page