Department of Fine Arts

The University Theatre Presents:
The School for Scandal
by Richard Brinsley Sheridan

October 16-19, 2002
Fine Arts Theatre
Hyman Fine Arts Center
Francis Marion University
| | |
| --- | --- |
| The Francis Marion University Theatre's first production of the 2002-2003 season, to run October 16-19, will be Richard Brinsley Sheridan's classic restoration comedy The School for Scandal. Set in the late 1700's, the play deals with the London upper crust and their "gossiping" ways. Under the direction of Associate Professor of Theatre Arts Glen Gourley, the production will be in typical restoration comedy style with the plot centering around mistaken identities, overheard conversations, and rumors being blown out of proportion to the point of the ridiculous. | |
With lavish settings depicting the architectural styles of the London upper society and the sumptuous costumes and wigs portraying the times and tastes of the extravagant citizens of London, the play deals with husbands suspecting their wives of infidelities, a returned rich uncle who finds his nephews at odds with society, overheard conversations, and gossiping societies whose "reports" ruin lives with every spoken word. In other words, The School for Scandal is not all that different from present day soap operas -- just a lot more fun with opulent sets and costumes.

The Francis Marion University Theatre will continue the season with the Experimental Theatre's series of Student Directed One-Act Plays November 20-21. February 19-22 will be Lanford Wilson's Book of Days and the season will close with Beth Henley's Crimes of the Heart to run April 16-19.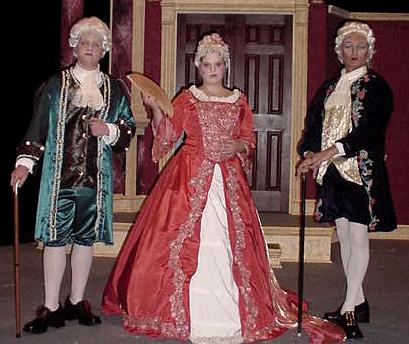 Reservations for The School for Scandal may be made beginning October 7 by calling the box office at 661-1365. The box office will be open to reserve seats Monday through Friday from 1 pm to 5 pm. All tickets are free to the public. Curtain is at 8:00.
For additional information contact Mr. Gourley in FAC 222, 661-1536, agourley@fmarion.edu.
Interested in working "behind the scenes"? Contact Mr. Granath in FAC 222, 661-1536, dgranath@fmarion.edu.

---
Performance Ensembles
Alpha Psi Omega - The National Honorary Fraternity in Dramatics
Back to Fine Arts Home Page