DEPARTMENT OF FINE ARTS


Scholarships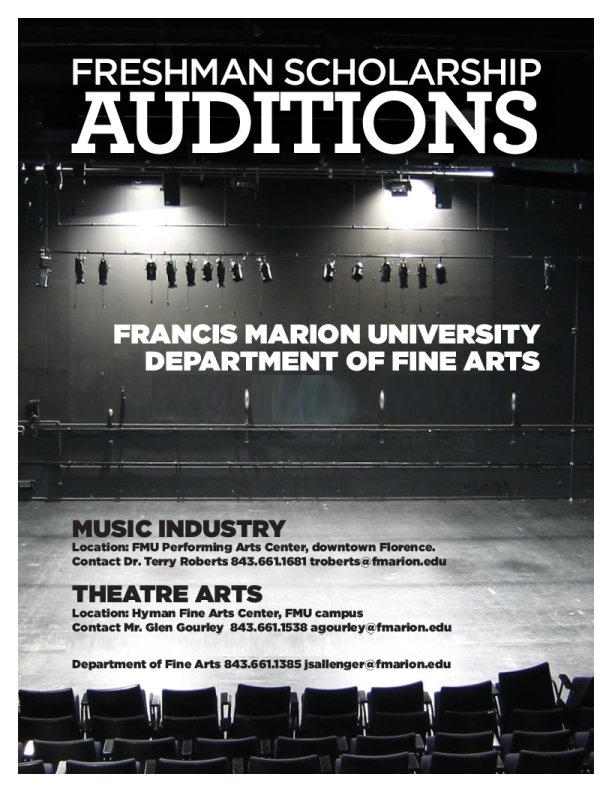 In addition to the academic scholarships and grants available to all Francis Marion University students through the University's Financial Assistance Office, the Department of Fine Arts is sometimes able to assist deserving students in a variety of ways.



Visual Arts and Art Education Scholarships acknowledging exceptional work in the visual arts are awarded as funding permits on the basis of portfolio and other criteria review.


SCHOLARSHIP CRITERIA / PORTFOLIO PROCEDURE FOR INCOMING FRESHMEN
MAJORING IN VISUAL ARTS / ART EDUCATION


Incoming freshmen who wish to be considered for scholarships should contact the appropriate program coordinator to schedule an interview the February prior to entering the University. Fine Arts Scholarships for Visual Arts and Art Education are awarded to incoming freshmen when available on the basis of portfolio and other criteria review.


A. Scholarship Criteria

Approximately 25% of available Art Scholarship funds will normally be set aside for qualifying incoming freshmen. This amount will then be broken down into different increments and allocated based on the number and quality of submissions, if any.
Suggested allocation of funds will be determined by the art faculty after all have reviewed the portfolio. Final approval and dispersal of scholarship monies will be determined by the Financial Assistance Office and the Chair of the Fine Arts Department. It is official only after the Fall semester begins and all scholarship funds are dispersed.
The number of winning applicants, and the amount of funds allocated to each, will be awarded according to artistic merit as determined by the art faculty, using a 10-point rating system. If the faculty feels that an insufficient number of portfolios have been submitted, or that the work is not of sufficient quality, the number or amount of awards may be reduced or eliminated. This money would then be rolled back into the general Art Scholarship fund for that year and awarded to previously enrolled applicants in the Fall.
Winning applicants must be accepted at Francis Marion University as full-time art majors to receive funding.
The scholarship will be for the Freshman year; the student must be enrolled as a full-time art major (minimum of 12 hours each semester) for both the Fall and Spring semesters. Students wishing to continue their Art Scholarship must a) keep up their grades and b) reapply annually with other full-time students at the beginning of each Fall semester; awarded amounts may vary.
Notification of winning applicants will occur as soon as possible after the March portfolio review. Students must notify the Fine Arts Department whether they will accept or decline the award by May 1.
B. Portfolio Procedure

Local students should first notify the Fine Arts Dept. by phone or e-mail before delivering portfolios in person. 3-D work or video may be submitted in the form of a CD of JPEGs, or a DVD.
Though examples of actual work are preferred, applicants not in the local area may mail a CD or DVD of their work (enclosing a self-addressed return envelope if they wish materials to be returned).
In either case, 10 to 20 examples showing a variety of the student's best work should be submitted. Care should be taken to avoid wrinkled paper, poor matting, bad photos, etc. At least 2 or 3 media must be represented. Some work done by hand is required (e.g., some drawing or painting or printmaking or sculpture or ceramics must be submitted with any digital or photographic work).
Noting the year, grade or level when each work was done is suggested.
Drawings and paintings: if possible, submit work done from life as well as from imagination, photographs or cartoons.
Each portfolio should indicate the applicant's name, address, phone number, and e-mail address.
Return of portfolios/notification of pick-up will be completed as soon as possible after the portfolio review is complete.
Deadline for submission of portfolios is the first week in March. Inquire if an extension is needed.
---
Music Performance Scholarships are awarded through audition to selected music industry majors and music minors participating in the University instrumental and vocal performance ensembles. Incoming freshmen who wish to be considered for scholarships should contact the music program coordinator to schedule an audition the February prior to entering the University. Check out the Choral Program and Instrumental Program pages on this web site, or contact the following for additional information:

---
Theatre Arts Scholarships may be awarded on the basis of interview/audition for those interested in the acting program, or interview/portfolio review for technical or design track students. Incoming freshmen who wish to be considered for scholarships should contact the theatre program coordinator to schedule an audition the February prior to entering the University.





---
Work Study Assistantship funds are available for positions ranging from photography and computer lab assistants to theatre shop carpenters. In addition, a wide range of other work study positions are available campus-wide. Students who apply for and receive work study assistantships not only receive financial support, they gain valuable work experience. For more information about the student work study program contact the Department of Fine Arts or the University's Financial Assistance Office.

---
Academic Awards Day



At left, Lawrence Anderson, chairman of the Department of Fine Arts, speaks at the April 2012 FMU Academic Awards Day program. Standing with him before the President, Provost, Deans and Chairs of the University are recipients of outstanding senior awards in art, music and theatre as well as recipients of the

Dr. John W. Baker Fine Arts Memorial Scholarship and the

Peggy Love McLaughlin Art Award.

---

TOTAL DISCLAIMER: Although every attempt is made within the constraints of time and information available to assure accuracy of material included in the Fine Arts website, errors and omissions are inevitable. Please take this into consideration and take pity on a poor gofer -- let me know when you run across any such errors, and please note the URL for the offending page. Thank you.
---