Department of Fine Arts

The University Theatre Presents:
The Compleat Wks of Wllm Skspr (abridged)
by Adam Long, Daniel Singer and Jess Winfield

April 14-17, 2004
Fine Arts Theatre
Hyman Fine Arts Center
Francis Marion University
Just when you thought it was safe to go back to the theatre - you were wrong. In one evening three Francis Marion University Theatre students will perform a feat never before attempted in the history of the University. They will perform the complete works of William Shakespeare in one evening of theatre.


Theatre Majors Brad Sponic, David Sistare, and Andrew Cogswell will attempt to cover all of Shakespeare's plays in one sitting. This humorous (and some might think irreverent) covering of the Bard's plays is an attempt as the script puts it: "to makes these musty old plays applicable to a present day audience." Approaches to the plays include such applications as Titus Andronicus as a cooking show, and the complete histories as a football game.



The Francis Marion University Theatre opened its season with Jules Feiffer's Feiffer's People. The winter production was for colored girls who have considered suicide when the rainbow is enuf by Ntozake Shange.

Reservations for Compleat Wks of Wllm Sksp (Abridged) may be made beginning April 5 by calling the box office at 661-1365. The box office will be open to reserve seats Monday through Friday from 1 pm to 5 pm. All tickets are free to the public. Curtain is at 8:00.

For additional information contact Mr. Gourley in FAC 224, 661-1538, agourley@fmarion.edu.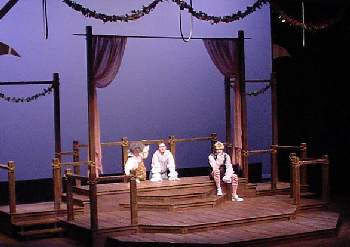 Interested in working "behind the scenes"? Contact Mr. Granath in FAC 222, 661-1536, dgranath@fmarion.edu.

---
Performance Ensembles
Alpha Psi Omega - The National Honorary Fraternity in Dramatics
Back to Fine Arts Home Page