Department of Fine Arts

The University Theatre Presents:
The Caucasian Chalk Circle
by Bertolt Brecht

October 20-23, 1999
Fine Arts Theatre
Hyman Fine Arts Center
Francis Marion University
The Francis Marion University Theatre's fall production of the 1999-2000 season, Bertolt Brecht's The Caucasian Chalk Circle, will open on Wednesday October 20th and run through Saturday October 23rd.

The play is under the direction of assistant professor A. Glen Gourley, assisted by Rachel Jebaily. Scenic design is provided by associate professor David C. Granath, costume design by assistant professor Amy L. Sherwood, with Granath designing lighting.

Open auditions were held in the Fine Arts Theatre from 2:00 to 5:00 Wednesday and Thursday afternoons, September 8 and 9, to select the cast and crew. Theatre experience is not necessary to participate in University Theatre productions, but actors and crew must be enrolled at Francis Marion University.
The play is about the struggle between two women, Grusha (Marcia Kunkel) and the Governor's wife (Kate Corea), who both claim to be the mother of the same child. The play also concerns Azdak (David Martinez), a crazy, larger-than-life peasant, and how he becomes the judge in the case of the child with two mothers. A cast of 30 rounds out the village trying to raise a child.

Later this season The Francis Marion University Theatre will present Lorraine Hansberry's A Raisin in the Sun (February 23-26, 2000) and David Ives' All in the Timing (April 12-15, 2000).

Chalk Circle will make its mark in the Hyman Fine Arts Center Theatre October 20-23, 1999, curtain at 8:00 pm each night. There is no charge, but reservations are recommended. Reservations can be made beginning October 11 by calling the box office at 661-1365. The box office will be open to reserve seats Monday through Friday from 1:00 to 5:00 pm.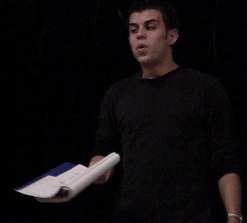 For additional information contact Mr. Gourley in FAC 224, 661-1538, agourley@fmarion.edu.

Interested in working "behind the scenes"? Contact Mr. Granath in FAC 222, 661-1536, dgranth@fmarion.edu.

---
Performance Ensembles
Alpha Psi Omega - The National Honorary Fraternity in Dramatics
Back to Fine Arts Home Page
photos courtesy of Will Franklin