Department of Fine Arts
The University Theatre Presents:
Catfish Moon by Laddy Sartin
February 24-27, 1999
Fine Arts Theatre
Hyman Fine Arts Center
Francis Marion University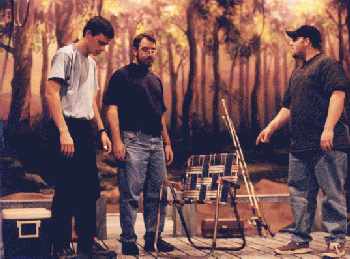 "Let's Go Fishing"
The Francis Marion University Theatre's winter production of the 1998-99 season, Laddy Sartin's comedy Catfish Moon, will open on Wednesday February 24th and run through Saturday February 27th.
Sartin, a Rock Hill, SC resident, sets his play at an old fishing pier out on Cypress Lake when it has just fallen under the magic of another "catfish moon." This pier was the hangout for three best friends when they were kids -- skipping school, skinny dipping or just fishing. Now Curley, Gordon and Frog (played by Jacob Robertson, Kendall Kiker and Jason Abernathy) are older and have tasted the bitterness of life as well as the sweetness.
The pressures and problems that come with middle age have eroded the closeness between Frog and Gordon. The final straw comes when Frog discovers that Gordon is dating his ex-wife Betty (played by Marcia Kunkel). Curley, the "big brother" of the group, convinces Frog and Gordon to go on an overnight fishing trip like old times in an attempt to recapture the friendship and settle all disputes.
On the pier, once the weight of adulthood has been lifted by laughter and love of fishing, the three guys discover that their friendship was never really lost. However, in the midst of catching the "biggest fish" of all time, life brings them back to a painful reality. The poignant resolution of the play brings Gordon and Frog to the realization that life is too precious and too short to let true friendship "get away."
The play is under the direction of associate professor David C. Granath. Scenic design is provided by assistant professor D. Keith Best, costume design by assistant professor Amy L. Sherwood, with Granath designing lighting.
Catfish Moon rises at the Hyman Fine Arts Center Theatre February 24-27, curtain at 8:00 pm each night. Reservations can be made beginning February 15 by calling the box office at 661-1365. The box office will be open to reserve seats Monday through Friday from 1:00 to 5:00 pm.
---

"Casting for Catfish"

Francis Marion University's winter theatre production will be Laddy Sartin's comedy Catfish Moon, February 24-27. Catfish Moon was first produced by the Charlotte Repertory Theatre in 1996 and was described by The Charlotte Observer as "full of the most bodacious joviality" with an "ending that is pure delight." Sartin, a native of Mississippi who currently resides in Rock Hill, SC has created a tale of life's ups and downs, of love and loss within lifelong friendships.

Rehearsals are underway for this play that chronicles the reuniting of three friends at an old fishing pier on Cypress Lake, their childhood hangout. The cast includes Jacob Robertson (Warrenville, SC) as Curley, the "leader" of the group. Kendall Kiker (Darlington, SC) will be seen as Gordon, a "big Teddy bear" kind of guy, with Jason Abernathy (Columbia, SC) playing Frog, a sometime too "quick-tempered" third member of the old gang. Additionally, Marcia Kunkel (Ellicott City, MD) will bee seen as Curley's "little sister" / Frog's ex-wife / Gordon's new sweetheart. This is indeed an interesting mix of friends.

The play is under the direction of Associate Professor David C. Granath, assisted by Laura Fitzsimmons (Hicksville, NY) and Jane Lewis (Florence, SC). Scenic design and technical direction is being provided by Assistant Professor D. Keith Best, costume design by Assistant Professor Amy L. Sherwood, with Granath designing lighting.
---
The University Theatre's 1998-99 season opened with the production of William Shakespeare's A Midsummer Night's Dream. This production was followed by student directed scenes by the Experimental Theatre of the University Theatre. The season will close with Tennessee Williams' Cat on a Hot Tin Roof.

For additional information contact Mr. Granath in FAC 222, 661-1536, dgranath@fmarion.edu.
---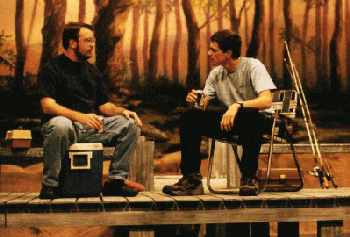 Performance Ensembles
Alpha Psi Omega - The National Honorary Fraternity in Dramatics
Back to Fine Arts Home Page
photos courtesy of The Patriot campus newspaper and Walter Sallenger