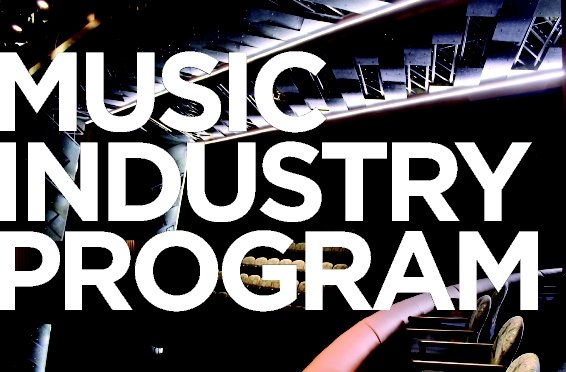 ---
Department of Fine Arts
MUSIC - OVERVIEW
---
THE MUSIC PROGRAM
THE MUSIC INDUSTRY MAJOR: PROGRAM HANDBOOK (Under Revision)

The Music Industry major provides training for students seeking an alternative to traditional performance and/or education paths in music. After taking foundation courses in applied music (vocal or instrumental), music theory, history, business and technology, students tailor their courses for their goals by concentrating in one of three specialty areas:
1] Performance track
2] Business track (marketing, promotion, venue management, etc.)
3] Technology track (recording, production, sound reinforcement, etc.)

Career opportunities within the music business arena might include: music publicity, marketing, and artist management; music publishing, merchandising, and physical or online retail/distribution; recording and media development; entertainment law; venue management. The program also allows the student to expanding their personal tools to succeed in a career as a performer, composer, and/or educator.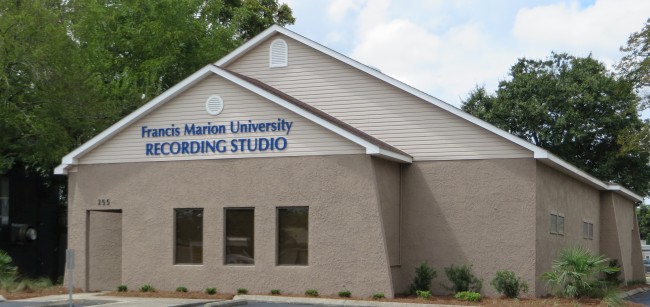 MISSION STATEMENT

The mission of the Francis Marion University Music Industry Program is to educate, train and develop students to excel in music as a career. This is done with a solid education in music and an expansive education in the liberal arts. Our curriculum embraces both time honored and contemporary musical styles. Through a course of scholarly and practical learning experiences integrating performance, writing and technology each student is prepared for career opportunities open to today's music professional. The Music Industry Program serves as the musical center for the university and surrounding community.

CURRICULUM*

A well-rounded education that prepares students to succeed in the modern world is at the heart of the traditional liberal arts education. Graduation requirements for this degree are 48 semester hours of General Education requirements, 56 semester hours of Music Industry courses, and 18 semester hours of an approved minor.

This is a rigorous program with high expectation for participating students; the emphasis is on "music." Students in all concentrations will have experience in the fundamentals of the performance, business and technology tracks of study.
* Specific requirements are subject to approval by university faculty.

PREPARATION FOR THE PROGRAM

It is expected that students entering this degree program will have prerequisite vocal and/or instrumental skills. The student should be as capable vocally or instrumentally as a student beginning a music performance major.

While the ability to read music and formal training in music are not required to enter the program, students who have participated in a structured high school music program or have several years of study with a private teacher are in a much better position to succeed than students who have had no prior formal training. Basic music reading skills (pitch recognition in treble and bass clef and understanding of reading rhythms in quarter, eighth, and sixteenth notes) and basic music theory knowledge (key signatures, major scales, chord structure) are of enormous benefit to students starting the program.

The curriculum is not for persons specifically seeking an audio engineering degree, or seeking a music business designation of any kind. The Bachelor of Science degree in Music Industry develops a well-rounded understanding of the music and music industry arts.
Music Performance Courses


Music Theory
Aural Skills
Music History
Applied Lessons
Ensembles
Conducting



Music Industry Courses


Music Commerce
Intro to Technology
Sound Recording/Reinforcement
Internship
MUSIC INDUSTRY PROGRAM ADMISSION REQUIREMENTS

Students admitted to Francis Marion University may register as Music Industry majors. There are currently no additional Music program acceptance qualifying standards students must meet to enroll in the Music Industry program.

However, it is helpful for potential students to recognize that this is a rigorous program with high expectation for participating students; the emphasis is on "music." For example, students are required to study traditional music theory and select a performance specialty (instrument or voice). Applied lessons in the performance specialty stress a conventional approach to performance focusing on scales, etudes, and classic literature.

If students feel they may need help because they are lacking the background described above, they can take steps to "catch up." For example, there are some free online courses and tutorials offered on the Internet. Also they can get assistance through basic keyboard lessons offered by private instructional studios or music stores.

THE MUSIC MINOR

The purpose of the music minor is twofold. It will provide a viable minor for undergraduate students seeking to reach an early conservatory level of proficiency; and provide the first two years of instruction in music for students not able to enroll in a music major during their first two years of college. USC-C has agreed to accept any student completing this program into their music major program after a successful audition. A student in our program would be two music courses behind in the USC-C music program after completing two years here, but two courses ahead in General Education courses.


(Note: This is not a Music Industry Minor.)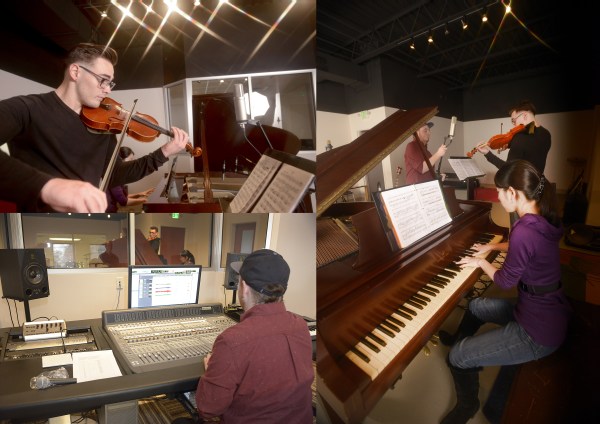 THE HYMAN FINE ARTS CENTER FACILITIES

Designed by the Boston architectural firm of Perry, Dean, Stahl and Rogers and constructed in 1980, the Fine Arts Center is a Post-Modern building housing educational and performance spaces for the music program.

The John W. Baker Art and Music Wing of the Hyman Fine Arts Center, which includes faculty offices for the department, also houses practice rooms and studios for individual vocal and instrumental instruction. The south wing of the Fine Arts Center includes the 350 seat University Theatre and the Adele Kassab Recital Hall, an intimate 150 seat performance space with infinitely variable acoustics

FMU PERFORMING ARTS CENTER

The Francis Marion University Performing Arts Center, just seven miles from the main campus in downtown Florence, has greatly expanded the Music Industry's facilities. It houses rehearsal and performance spaces, recording and sound reinforcement facilities, faculty offices, and a music technology lab with keyboards interfaced with computers and software to assist students in composition, transcription, music theory and ear training.

FMU RECORDING STUDIO

The new Francis Marion University Recording Studio is a state of the art facility utilizing both classic analogue and modern digital equipment. The studio is focused around a fully loaded ProTools 11 HD rig with an Avid C24 console and ADAM A7 monitoring. There is a full compliment of industry standard microphones from AKG, Sennheiser, Rode, Audio Technica, Neumann and many others. Classic analogue preamps are provided by Neve, API, Universal Audio and Audient. The studio features two isolation booths and a great room large enough to handle ensembles of any size.

Other campus performance venues are Chapman Auditorium in the McNair Science Building, Lawrimore Lecture Hall in the Cauthen Educational Media Center, Thompson Auditorium in the Lee Nursing Building and Smith University Center Commons and Gymnasium. And of course, there are also the less formal "coffee house" settings which provide an outlet for local musical talent in both invitational and "open mic" formats.