---
Department of Fine Arts
ART EDUCATION - OVERVIEW
---
THE ART EDUCATION PROGRAM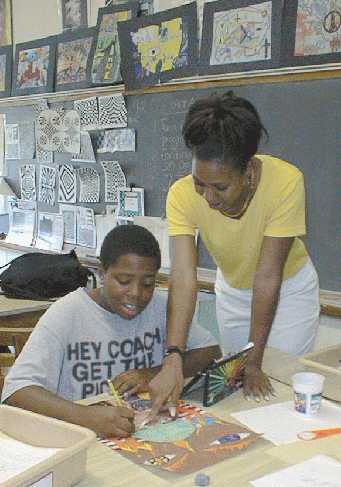 The Art Education Program was established and given official sanction by the South Carolina Commission on Higher Education in 1992, receiving accreditation by the National Association of Schools of Art and Design in 1997. The primary purpose of the Art Education Program at Francis Marion University is to develop art educators who are qualified to teach on the PK-12 grade level. Within a program of low student/faculty ratios and personalized attention to career development, the art education program prepares students for their future careers in three areas - scholarship, the ability to teach, and service.

MISSION STATEMENT
It is the mission of the art education program to educate individuals who are highly qualified art educators and who will be leaders in the field--artists with competent skills across a range of different media; teachers with a strong knowledge base who are effective organizers, managers, and communicators; and leaders in scholarship and professional service. To fulfill our mission we require students to take rigorous courses in education, art education, and studio art. This is supplemented by real world learning opportunities, including educational fieldtrips, active participation in national and state art education organizations and conferences, community-based service projects, school internships, and exposure to practicing artists through an active visiting artist program.

COURSE OF STUDY

Art education majors are trained in methods for teaching a comprehensive art education, which emphasizes the four major disciplines of art--art production (studio), art history (cultural context of art), aesthetic perception (experience of and with art), and aesthetic valuing (critical perception). In the art production component, students acquire artistic skills to visually express and communicate ideas and feelings through study in studio courses. In the art history component, students gain an understanding of art as it reflects, records, and shapes history and an understanding of how art plays a role in various cultures. This is attained through courses in art history, and in art education. The aesthetic perception component is developed through the study and identification of characteristics and symbols of works of art, natural events, and objects. The aesthetic valuing component addresses critical and creative thinking, through the study of evaluation of the artistic process and product.

In the area of preparation for future teaching, art education majors are taught educational strategies and methods consistent with contemporary research and national and South Carolina standards in the visual arts. Course work addresses major issues in art education, such as the essential components of a quality art program, the instructional needs of diverse student populations, and strategies for collaborating with other teachers. Students also gain real world experience by engaging in two internships and a final semester of student teaching. These students develop the expertise to apply the core methodologies of art education. They have multiple opportunities to plan and implement instructional units that include the four components of the art curriculum. The students utilize various instructional approaches, assessment strategies, educational materials, computer technology, and other resources.

Service to the discipline of art education and to the community is also integral to the goals of this program. Students and faculty exhibit their artwork within the institution and in local and regional venues. Students and faculty work cooperatively within and outside the institution to help provide cultural events to the community. Working as docents in the local museum, serving as adjudicators for area public school art programs and exhibitions, and participating in artistic events of the region are part of each level of art education coursework. Our students and faculty also participate in the professional association of art education at the institutional and student levels as well as the state and national levels.

FMU students at South Carolina Art Education Convention


Nation accreditation by the National Association of Schools of Art and Design gives Francis Marion University students majoring in visual arts and art education easier access to graduate and professional programs in parts of the country outside the region already aware of the program's reputation for excellence.

THE CURRICULUM

Graduation requirements for the Bachelor of Science in Art Education are 48 semester hours of general education requirements, 30 semester hours of professional education, 12 semester hours of art education, 27 semester hours of art studio, and 12 semester hours of art history. Students progress through three levels of practicums structured in actual K-12 art classrooms in the Florence area.


Art Education majors must meet specific requirements to be officially accepted into the art education program, including being admitted into the professional education program in the School of Education and pass Praxis Core Academic Skills for Educators Tests. In addition, art education majors must pass the Praxis Principle of Learning and Teaching and Praxis II Art: Content and Analysis tests, as well as meeting other requirements, before being accepted into the student teaching program. For more specific information, students should refer to the Francis Marion University Catalog for the year they first enrolled.


Note: Many students are under the mistaken impression that it's a good idea to "get all the General Education courses out of the way" first, then concentrate on their major during their last two years. DO NOT DO THIS. You may not be able to graduate on time unless you begin taking (and passing) art and art education courses right away. Some of our courses may not be offered every semester. You should take an average of two art courses every semester in order to graduate in four years.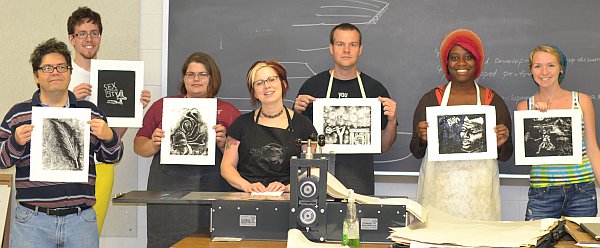 Art education printmaking project



THE HYMAN FINE ARTS CENTER FACILITIES

Designed by the Boston architectural firm of Perry, Dean, Stahl and Rogers and constructed in 1980, the Fine Arts Center is a Post-Modern building created to capture the north light, so constant and essential to the working artist. This light, the spacious, high-ceilinged studios and adjacent open patio create an environment for study and the making of art.

The primary lecture hall was designed for quiet still image and video presentations to enhance the teaching of art history. The educational image collection contains well over 180,000 digital and slide images of works of art, and the Rogers Library holdings in art include at least 10,000 volumes, one of the best collections in the state.

The Fine Arts Center includes studios and labs for art education, painting, drawing, ceramics, sculpture, photography, visual communication, and art technology. Equipped for instruction and production, artworks are both created and adapted for use in presentation, education, and website development.

The Fine Arts Center boasts two art galleries, with a third located in the Smith University Center. They feature a rotating schedule of exhibitions by students and distinguished regional artists.

Further details on Fine Arts Facilities.


---

Dr. Howard J. Frye
Coordinator of Art Education Program
Assistant Professor of Art Education
Ed.D., Florida State University
HFAC 206 / (843) 661-1684
hfrye@fmarion.edu