DEPARTMENT OF FINE ARTS


Music - FMU Concert Band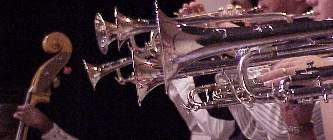 Community Participation in FMU Concert Band


The FMU Concert Band welcomes adult musicians!!!
Beginning with the spring 2002 semester, we rescheduled the Francis Marion University Concert Band rehearsals to Tuesday evenings and invited adult musicians from the region to participate. Response has been so positive that we would like to encourage you and other instrumentalists you know to join us -- there is no fee unless you choose to enroll for college music major/minor/elective credit! For each concert we ask community participants to commit to attending the dress rehearsal as well as 4 of the final 6 rehearsals before the dress rehearsal.

Tuesday rehearsals are held in the new Performing Arts Center's concert hall from 7:00 – 9:30. We intend to play the best available wind band literature with the difficulty level determined by the capabilities of the players. It promises to be a rewarding experience; with strong representation from the many fine players in our area, we will be able to make great music.
If you are interested in participating, just send an email to the address below and include your name, contact information (address and phone numbers), and the instrument(s) you play.
If you have any questions or would like additional information regarding instrumental music opportunities at Francis Marion University, please contact Terry Roberts. You may write, e-mail, or call him at the number listed below. We want you involved in the music program at Francis Marion University.

We look forward to your participation!