DEPARTMENT OF FINE ARTS


Art Gallery Series 2005-2006


Skin Deep:
A National Juried Exhibition of Contemporary Ceramic Art

Juror: Val Cushing. As an educator, Val Cushing spent 40 years building the ceramic art program at Alfred University into the major center which it has become. He has exhibited, taught or presented workshops and lectures in universities, schools, museums and galleries throughout North America, Europe and Japan. Val has been author (as well as subject) of articles in professional journals and his works have been included in numerous books concerning contemporary American ceramics.


Exhibition Prospectus / Entry Form




Shard Platter

by Val Cushing


Artists Reception / Awards Announcement
7:00 pm Tuesday, March 14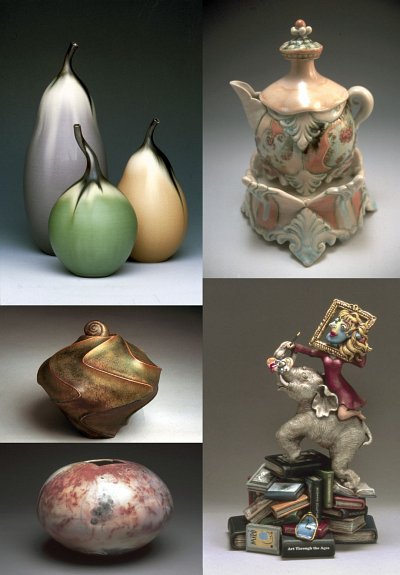 JUROR'S STATEMENT- SKIN DEEP 2005
Douglas Gray has performed a great service to his students, Francis Marion University and the whole ceramic community. This show was his idea and he, single-handedly, did all the work necessary to make SKIN DEEP 2005 possible. Partly because the response across the country was excellent, the work in this exhibition does, indeed, reflect much of the excitement and energy that defines contemporary American Ceramics. There is much good work being done, making it difficult to select just a few pieces, from the many hundreds submitted, to accommodate the limited gallery space. But that is the nature of juried exhibitions. Given enough space, this show could be twice as big. We can all be proud of the ingenuity, imagination and skills of American ceramic artists. I tried to choose pieces that demonstrate the diversity of approach that somewhat characterizes ceramics today. When some artists had two or three very strong submissions, I chose just one in order to give more people a chance to be in the show. By emphasizing "SKIN", or surfaces, as a theme for this exhibition, Doug has opened the door for artists who do work that really celebrates that vital aspect of ceramic forms and gives this show a special flavor. My choices for five awards were based upon, as Doug proposed, SKINS OF MERIT, as expressed through CLAY, through GLAZE, through FIRING, through experimental or INNOVATIVE techniques and, lastly, a kind of "flawless union of surface and form", which is a kind of best-of-show award. Most entries fit neatly into one or another of those categories, but it is very hard picking out just five pieces when there are many others that met the challenge beautifully. There is ample evidence of awesome skills in this show and of artists working in a wide range of temperatures, atmospheres, firing procedures, and using a variety of materials and processes. I see a kind of recapitulation of the whole history of ceramics along with some fairly new developments such as laser printing. I think the stated theme of this show led to more entries concerned with vessels, wall pieces and sculpture than with utilitarian pottery, although there are some fine pots in the show. I gave a number of honorable mentions because the work warranted special recognition. There is a considerable amount of work using multi-media in which the special qualities inherent in ceramics are used in conjunction with various other materials like wood, stone, glass and paint. I was pleased to see many artists firing at C/6 oxidation, a firing range that can combine both the richness and color of low fire with high fire density and durability.
To all who submitted their work, I thank you. I put high value on effort, practice and determination. Find your personal voice and continue to follow and develop what you are passionate about. That will bring real satisfaction and fulfillment, the real meaning of success. CARLOS FUENTES put it this way, "EXTREME ATTENTION IS THE CREATIVE FACILITY AND ITS CONDITION IS LOVE."
VAL M. CUSHING J
ALFRED, NV
6 DECEMBER 2005

---
A few images from the show: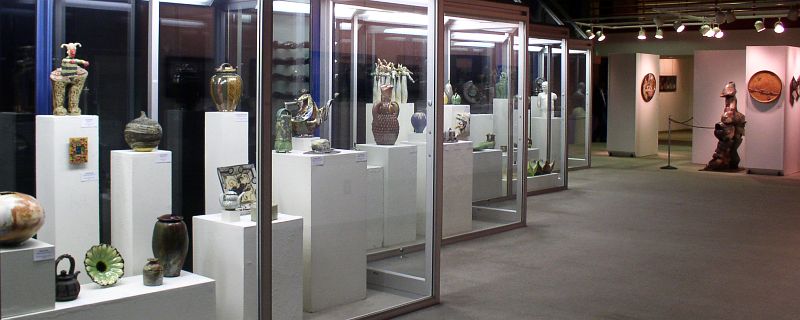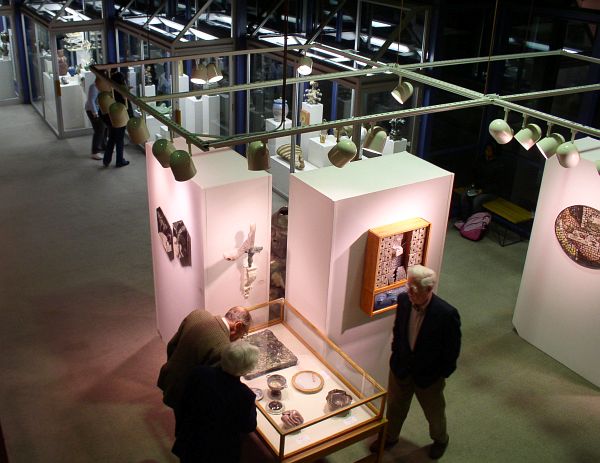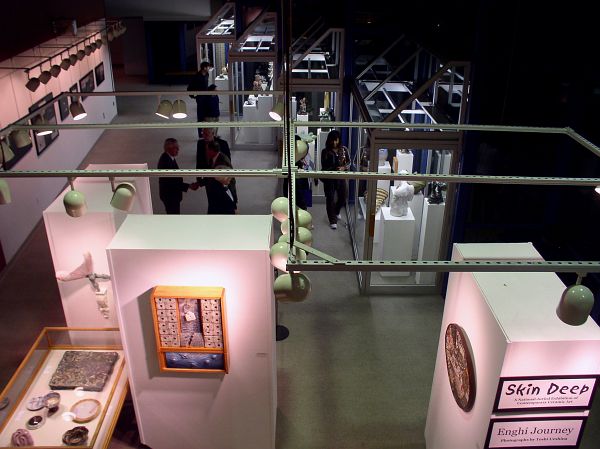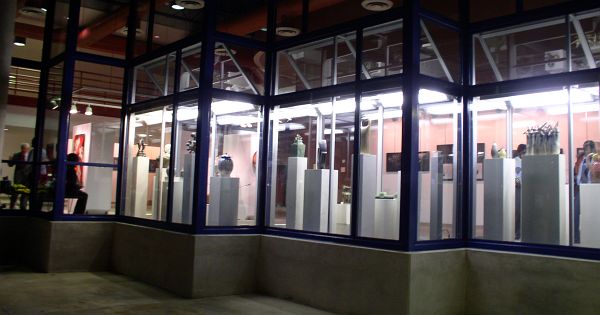 From the outside looking in....


Congratulations to Jamie Adams, Posey Bacopoulos, Kiyong Bae, Sharif Bey, Jan Bilek, Charles Birnbaurm, Karen Bolton, Sally Brogden, Summer Bruch, Joan Carcia, Bill Clark, Elizabeth Cohen, Jim Connell, Terry deBardelaben, Joseph Detwiler, Carrie Doman, Elizabeth Emery, Patz Fowle, Ronald Franklin, John Gargano, Mark Gordon, Kimberly Greene, Lucas Hoyt, Patricia Hubbard-Ragette, Dale Huffman, Amanda Jaffe, Robert Johnson, Elizabeth Keller, Laura Kukkee, Emily Loehle, Chris Longwell, Todd Matteson, Pamela McDonald, Kate Murray, Lorene Nickel, Mari Ogihara, Phyllis Pacin, Gillian Parke, Benjamin Peterson, Cynthia Reynolds, Dannon Rhudy, Jim Romberg, Donna Rozman, Dee Schaad, Thomas Schmidt, Virginia Scotchie, Bobby Scroggins, Eric Serritella, Annie Singletary, Kathleen Skeels, Elizabeth Smith, Vicki Snyder, Stacey Stanhope, Keri Straka, Wendy Summers, Ian Thomas, Todd Turek, Jack Walsh, Hong-Ling Wee, Lars Westby, Megan Wolfe, Suzanne Wolfe, and Robert Wood.

---