---
Department of Fine Arts
Facilities - McNair Science
Building Auditorium
---
Back to Fine Arts Home Page
Back to McNair Auditorium Overview
The Old McNair Auditorium FOH Lighting
GOFER'S BANE
On the left we have the scaffolding set up beneath one of the three front-of-house lighting coves. This is the only way to access the instruments, and assembly of scaffolding is not trivial, requiring advance coordination with college physical plant personnel. Note that scaffold must cross several tiers of seats, requiring special leveling jacks.

Coves are very tight, access is by removing ceiling tile. Individual instruments can only throw to a limited portion of the stage, and adjacent instruments can interfere with aim and shuttering.

Performers are URGED to use the repertory lighting plot whenever possible.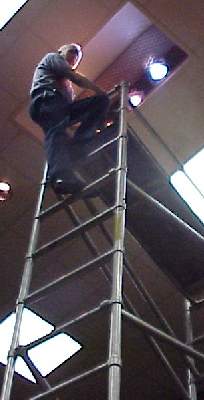 Finally, here is a picture of GoferJoe doing a regel. Are those prematurely gray hairs we see? Does he look like a happy gofer to you?