Art students and faculty visit museums and galleries up and down the east coast as time and funding permit. A typical excursion is like the following one to Charlotte:

"Two vanloads of art enthusiasts sampled exhibitions all over town, including two major shows of Latin American art: Women Artists in Mexico at the Light Factory Photographic Arts Center, and Mexico Now: Point of Departure, an exhibition at the Mint Museum of Art which spotlighted the work of 13 contemporary Mexican artists. In addition, students saw the Mint's permanent collection, ranging from traditional, eighteenth century portraits to contemporary ceramics, sculpture, painting and glass. Other stops on the itinerary included the Gerald Melberg Gallery in Morrocroft Village; and a tour of downtown Charlotte, including the breathtaking motorized sculpture by Jean Tinguely in the lobby of the Carillon Building and the fascinating realistic murals by Ben Long in the NationsBank Corporate Center. The day was topped off by an Omnimax Theatre film at Discovery Place and a Mexican dinner."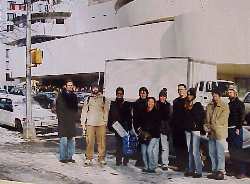 On another trip the Art Guild spent a weekend in Atlanta, highlighted by a visit to the Picasso Exhibition at the High Museum of Art. They also visited the Fay Gold Gallery and the Tula gallery complex, and toured the facilities of the Atlanta College of Art.