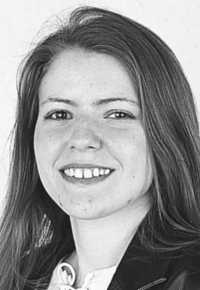 Editor

,

The Messenger

, Hartsville, SC.


Rock named Hartsville editor
8/6/09
The Messenger


After nearly two years in Darlington, Media General welcomes Lisa Chalian-Rock, 28, back to the company as editor of
The Messenge
r in Hartsville.
"I look forward to serving the Hartsville community and giving them the best paper I can," said Chalian-Rock.
She began her career in the
Morning News
newsroom as a graphic artist creating informational graphics, maps and charts. Five years later, she was named interim visuals editor and continued her duties in graphics.
For two-years she served as the graphic design director at
The News & Press
in Darlington, where she updated the Web site, created ads, wrote stories and designed pages among other things.
Her work has garnered her numerous South Carolina Press Association awards, including 20 last year, for her design, writing and ads.
Chalian-Rock grew up south of Birmingham, Ala. Her family moved to Florence in 1995. After high school, she attended Francis Marion University where she graduated Summa Cum Laude with a Bachelor's Degree in Visual Arts, specializing in Painting and Graphic Design, and a Creative Writing minor. Her artwork has been displayed at Francis Marion University, the Florence Museum and Chameleon Art Gallery.
She lives in Darlington County with her husband Loren and seven dogs.



Visuals Editor / Graphic Artist,

Morning News

, Florence, SC. Lisa designed feature pages and created infographics, maps, charts and illustrations for the newsroom.



Lead Designer, Carolina Publishing Quarterly Newsletter

.


Lisa continues to paint and maintains a Web Gallery of her work at www.lisarock.com.
2004

S.C. Press Association First Prize Winner Daily, Lifestyle/Living Page Design.

2004

S.C. Press Association Third Prize Winner Daily, General News Graphic.
2003

S.C. Press Association First Prize Winner Daily, General News Graphic.


2002
S.C. Press Association Second Prize Winner Daily, General News Graphic.